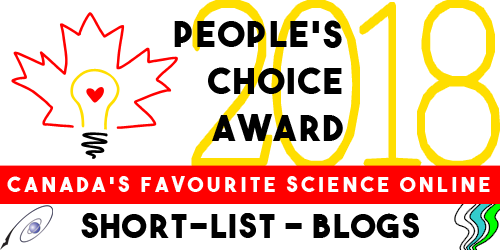 I am honoured and a bit embarrassed to announce that SpiderBytes is in the running for the Science Borealis People's Choice Award for "Canada's Favourite Science Blog." Honoured, because I am proud to be part of the Science Borealis network of Canadian science blogs! And embarrassed, because I have posted exactly two things here in the last year. In my defence, I have been in the thick of pursuing a PhD, but I will take this as a challenge to blog a bit more in the upcoming year (my final one, if all goes well, as a PhD student!).
Despite only adding one new post this year, a lay summary of the first paper of my PhD thesis (a review of all the weird and wonderful was male spiders use silk during courtship and mating), the blog has seen a lot of traffic since last September. The vast majority of views (averaging about 10,000 per week) have been visits to the Recluse Or Not page and the associated post How to tell if a spider is not a brown recluse. I am very pleased with the traction that the Recluse or Not project (a collaboration with my wonderful colleagues Matt Bertone and Eleanor Spicer Rice), has gotten both here and on twitter and it makes me feel a little less sheepish about being nominated!
Please go vote for your favourite blogs (see all the nominees here) and thanks very much for stopping by! I'll endeavour to add some more content in the upcoming months since it's prime time for spiders here in Vancouver!